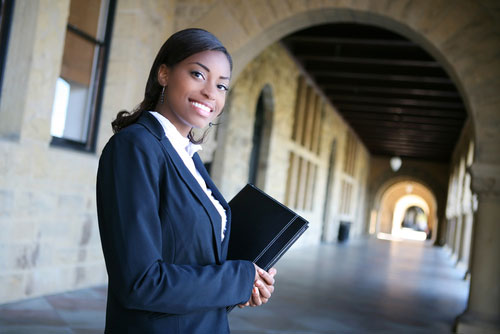 Tips for applying to Bradley's Master of Arts in Counseling program
Date: June 7, 2017
Applying to schools requires a lot of planning and preparation on the prospective student's part. This step is especially true for online students interested in attending graduate school to earn a master's degree in counseling or some other psychological treatment field. Submitting a successful application ultimately may depend on paying attention to the tiniest details. It also may come down to large-scale factors like your career ambitions and plans for a specialty, not just the boxes you have to check accurately on the application.
These realities exist regardless of which program you choose, including when applying to attend Bradley University's online Master of Arts in Counseling program.
Entry into the Master of Arts in Counseling degree program, available through The Graduate School, requires students to make a dedicated effort to familiarize themselves with the program's general requirements and specifications, what prerequisites exist and what the expectations are, among other factors. In addition, students must honestly self-assess their career prospects and interests to ensure their goals, aspirations and ideals align with Bradley's Master of Arts in Counseling program.
As a first step, review the Master of Arts in Counseling web pages to learn the basics of the application process and what information you will need. These pages will serve as an integral reference throughout your application period. To further assist you in the process, Bradley compiled the following tips for what you absolutely need to know and to demonstrate to be accepted into the online Master of Arts in Counseling program.
Understand the basics of the Master of Arts in Counseling program
At its core, the online program is designed to prepare professional counselors to work with diverse client populations in a number of settings that are just as varied — ranging between educational, community, health care and mental health.
Understanding your target program's mission is important to ensuring it aligns with your own personal values, views and mindset, so there is harmony in expectations of what will be learned and how it is learned. To begin, the program's purpose is straightforward. Counselors work to facilitate growth and development in clients, which results from profound interaction and engagement. To this end, the program holds that personal and professional growth is rooted in both cognitive and experiential learning (meaning practica and internships are required as part of the school's curricular requisites).
Interested students also should understand that there are two tracks, or academic concentrations, within Bradley's online counseling graduate program, being the Professional School Counseling and Clinical Mental Health Counseling tracks. Students in both tracks take the same 51 semester core hours then complete their programs by taking nine semester hours that are specifically geared toward their chosen specialty (non-teacher, professional school counselors require 10 semester hours).
All applicants ought to study the general objectives of the Master of Arts in Counseling degree program as outlined in the counseling program's handbook. These ideals broach overarching qualities that the program aims to instill in graduates, such as commitment to inquiry and fulfillment of human potential, competence in the application of practical skill and expertise, and holistic knowledge of the role and function of the professional counselor. Additional specific objectives associated with the two different tracks are as follows:
Professional School Counseling objectives include providing graduates with the knowledge, skills and theories related to counseling in elementary and secondary school.
Clinical Mental Health Counseling objectives include encouraging an awareness of a professional counselor's responsibilities in various mental health settings.
Despite the tracks' differences, common objectives are present throughout Bradley University's varied academic programs, like preparing students in ethics and enhancing their sensitivity and acceptance of other people's behaviors.
Know what will be required in the application process
An applicant will be ready to embark on the application process once he or she is familiar with Bradley's Master of Arts in Counseling program, including its objectives and how they will complement the applicant's personal and academic goals. As with any application, there are a number of requirements that must be met to be considered for acceptance in the program, including:
Grade point average as recorded by official academic transcripts. Certain GPA thresholds must be met, as well:

A cumulative major GPA of 3.0 or higher on a 4.0 scale for the last 60 hours taken as an undergraduate is required for unconditional admission.
A cumulative major GPA lower than 3.0 on a 4.0 scale will require the applicant to take either the GRE or MAT and request a re-review.

Three professional and/or academic letters of reference:

Students often forge close relationships with professors, so it's recommended you get a reference letter from such mentors instead of one from an instructor with whom you had less interaction with and might not be as able to comment on your ambitions. Avoid as much as possible letters solicited from family members and friends.

The submission of two 250- to 500-word personal essays. Instructions for these essays are as follows:
Explain personal achievements and work experiences that demonstrate relevance to your interests and capacity for graduate study.
Describe career objectives and how specifically Bradley University's online Master of Arts in Counseling program can assist in realizing them.
Completion of an online screening:
Applicant vetting is needed for entry into the graduate program, and prospective students must complete an online interview with faculty. Be aware this step is done in groups of up to five students at a prearranged time. You should ensure you have strong internet connectivity, use a computer (not a mobile device) with the latest version of required software, and choose a private space for this confidential interview.
A non-refundable $40 application fee ($50 for international students).
The application process also requires different information dependent upon whether you are a domestic student (further augmented by being in or out of state) or an international student. For instance, Illinois residents interested in Professional School Counseling are required to submit records showing they have passed the Test of Academic Proficiency (TAP 400) or equivalent ACT Plus Writing/SAT scores. Applicants who are teachers will need to submit their teaching license to waive this particular requirement. Non-Illinois residents are strongly encouraged to familiarize themselves with reciprocity rules and current requirements for certification and licensure in their home state.
International students must take the Test of English as a Foreign Language (TOEFL) to demonstrate English language proficiency and provide equivalent bachelor's degrees and other supplementary educational records.
Prepare for certification and licensure after program completion
Completion of a graduate degree is just one step on the path to becoming a professional counselor. Getting accepted to Bradley's online Master of Arts in Counseling program does not hinge on any one thing, but aspirations to become certified or licensed after program completion are a big draw in admissions considerations. There is no hard and set requirement, but for instance, using the personal statement to expound on a desire to attain professional credentials will demonstrate to program faculty that an applicant is serious about her or his studies and committed to excelling in the field. Both qualities are desirable for any university and program but are especially relevant for professional counselors.
All graduates of Bradley's online Master of Arts in Counseling program are eligible to take the National Counselor Examination for Licensure and Certification (NCE) during the semester in which they are scheduled to graduate. Being able to look forward also points to a student who has priorities and objectives, as graduate programs are keen to attract the best academic talent. Indeed, 100 percent of graduates from Bradley's 2015 and 2016 classes passed the NCE.
Get involved in extracurricular activities or research
The concrete requirements of the application process do not always allow for applicants to showcase what makes them different. The personal statement and letters of recommendation may be able to allude to these qualities, but these materials might not provide all the information applicants want to highlight about their personal and professional accomplishments. One way to address this discrepancy is including materials that show your willingness to engage outside class or participate in working groups and research labs or projects.
Research is a vital component to any graduate academic forum, and this fact is no less true for Bradley. Applicants who can supplement their application with a track record of research experience demonstrate that they are prepared to enter the scientist-practitioner model in the counseling field. Research expands the knowledge base of every profession, which is particularly important for counselors.
Contact Bradley University today for more information
Apart from reading guides on applications and examining every detail in the handbook, interested applicants can speak with a Bradley admission officer to learn firsthand what the university's process looks like and what will be expected from prospective students.
Remember, a lot goes into applying for any graduate program, including Bradley's Master of Arts in Counseling. Researching the university's program, expectations, requirements and objectives will help you familiarize yourself with the most critical steps in the application process.
Recommended reading:
Why a Master of Arts in Counseling degree is right for you
What you need to know about accreditation