The path to discovering how to become a professor may well begin with words of wisdom attributed to one of the most influential educators in history: the ancient Greek scholar Socrates.
"I cannot teach anybody anything," Socrates wrote. "I can only make them think."
The teacher of Plato and the man for whom the Socratic method is named has inspired Western thought and systems of logic for thousands of years. It's in that tradition today's professors step into their roles as educators and shapers of minds.
Centuries later, the position of postsecondary educator is a respected, vital profession. Professors impart knowledge to students. They analyze facts and provide context. They evaluate student progress and assign grades accordingly. They serve as guides for discovery.
Perhaps most importantly, professors teach students how to think. Like Socrates in another age, today's professors seek to ignite a love of learning in students' minds.
Professors help advance the collective knowledge of society. It's an attractive profession and a distinguished position in world culture. If professors want to mold minds, they must be prepared to take on the gravity of the task.
That's why the path to professorship is marked by rigorous study, moments of deep introspection and continual striving for academic achievement. Most of all, the journey to becoming a professor is an exercise in helping others access and refine their ability to think.
How to Become a College Professor
It takes more than a high level of academic achievement to secure a tenure-track position. As in any highly competitive profession, the steps taken along the way can make or break a career.
Finding Teaching Experience
Even as aspiring professors work their way through high school, undergraduate and postgraduate levels, it's necessary for them to seek work experience in education. There are two reasons for this.
First, teaching requires experience. Tutoring, interning in a classroom setting or working as a graduate assistant allows student educators to refine their communication skills. It's better to learn early what works — and what fails to resonate — with students. Because professors dedicate a great deal of their professional lives to research, it's also important to study research methods and resources.
Second, working with other educators puts the student into contact with a potentially valuable network of future colleagues. Higher education is a community. The friends met along the way could one day point the way to a new opportunity.
Qualifications for Becoming a Professor
In general, a professor must meet minimum qualifications for academic achievement, work experience and professional accolades to be considered for a tenure-track position. These typically include the following:
A master's degree in a chosen area of expertise
A doctorate in a field of expertise
Published work demonstrating expertise in a field
A certain number of years spent as an instructor (varies by subject and school)
Proven ability to develop curriculum and program material
Proven ability to evaluate and grade student performance
Requirements vary by school, but professors typically are expected to participate in campus life. This may mean serving on committees, mentoring young students, participating in faculty senate activities or helping recruit new students.
Different departments at different schools have specific expectations for tenured positions. For example, a professor under review for tenure is typically evaluated in areas such as teaching excellence, research conducted and service to the academic institution.
What Are the Different Types of Professors
According to National Center for Education Statistics data, 1.5 million faculty members worked at postsecondary institutions in the U.S. in the 2017-18 school year. Of those, 53% were full-time employees, while the other 47% worked part time.
What's the difference between a part-time and a full-time professor? What types of professors are employed by colleges and universities, and what do their jobs entail? The answers follow.
Part Time vs. Full Time
While the definition of part-time professor differs among institutions, it generally refers to an instructor who doesn't have a full-time contract with the school. A part-time professor will often hold a full-time job in a field related to an academic specialization and teach one or two classes during the semester.
A full-time professor, on the other hand, teaches a set number of classes (typically four or five) each semester and, in many cases, conducts research on behalf of the institution. There are many levels of full-time employment for a professor, each with different duties and expectations.
In general, a full-time professor is considered a trained expert in a field of study. Often, a full-time instructor (an educator who conducts classes and works directly with students) has earned a doctorate and is working toward tenure: an appointment to the faculty stating the professor's employment can end only under specific circumstances, such as budgetary cutbacks or the elimination of a program of study.
Non-tenure-track educators are known as contingency faculty. An article published on the education news site Inside Higher Ed reported 73% of faculty members fell under this category as of 2018, according to the American Association of University Professors (AAUP).
Professor Roles and Titles
The roles and titles of full-time professors vary from school to school. Some focus on teaching and interacting with students (sometimes known as "professors of practice"), while others focus on research.
Here are examples of full-time faculty at institutions of higher learning.
Tenured Professor
According to the AAUP, which introduced the concept of academic tenure in 1915, a tenured professor is one who has an indefinite appointment to the faculty and can only be fired for cause or under extraordinary circumstances. The AAUP's Recommended Institutional Regulations on Academic Freedom and Tenure insist all full-time positions should be considered either probationary or with continuous tenure.
Full Professor
Full professor is a senior, tenured position. In addition to teaching, they often take on leadership roles in their department. Full professors choose their area of research, either continuing to publish works in their field or pursuing new topics in an adjacent field.
Associate Professor
This position is typically considered one rank below full professor. An associate professor may work directly with students and conduct research separately or in support of a full professor. Some associate professors have achieved tenure but haven't exhausted the range of promotions in their schools.
Assistant Professor
This position typically refers to entry-level positions on the faculty. It's a rank below associate professor. An assistant professor may present lectures and conduct guided research.
Instructor
This position can refer to a full-time or a part-time educator. Instructors conduct classes and work directly with students. The role may be referred to as an assistant professor or a lecturer, depending on the structure of the school's academic hierarchy.
Lecturer
Most lecturers are part-time educators who teach a specialized course related to their full-time, nonacademic careers. In some cases, the term "lecturer" is used to refer to a full-time educator whose role focuses on teaching, as opposed to a combination of teaching and research.
Interim Professor
An interim professor holds the position temporarily when the full-time professor is on a leave of absence or while a job search for a full-time replacement is being conducted.
Adjunct Professor
Adjunct professors are part-time or entry-level full-time instructors who aren't on a path to academic tenure. They often are paid a flat fee for each course they teach, rather than a regular salary.
Graduate Teaching Assistant
Another category of educators found in higher education is graduate teaching assistant (GTA). This position is held by students who seek a postgraduate degree in their field of study. Many aspiring professors seek to gain work experience by becoming graduate assistants.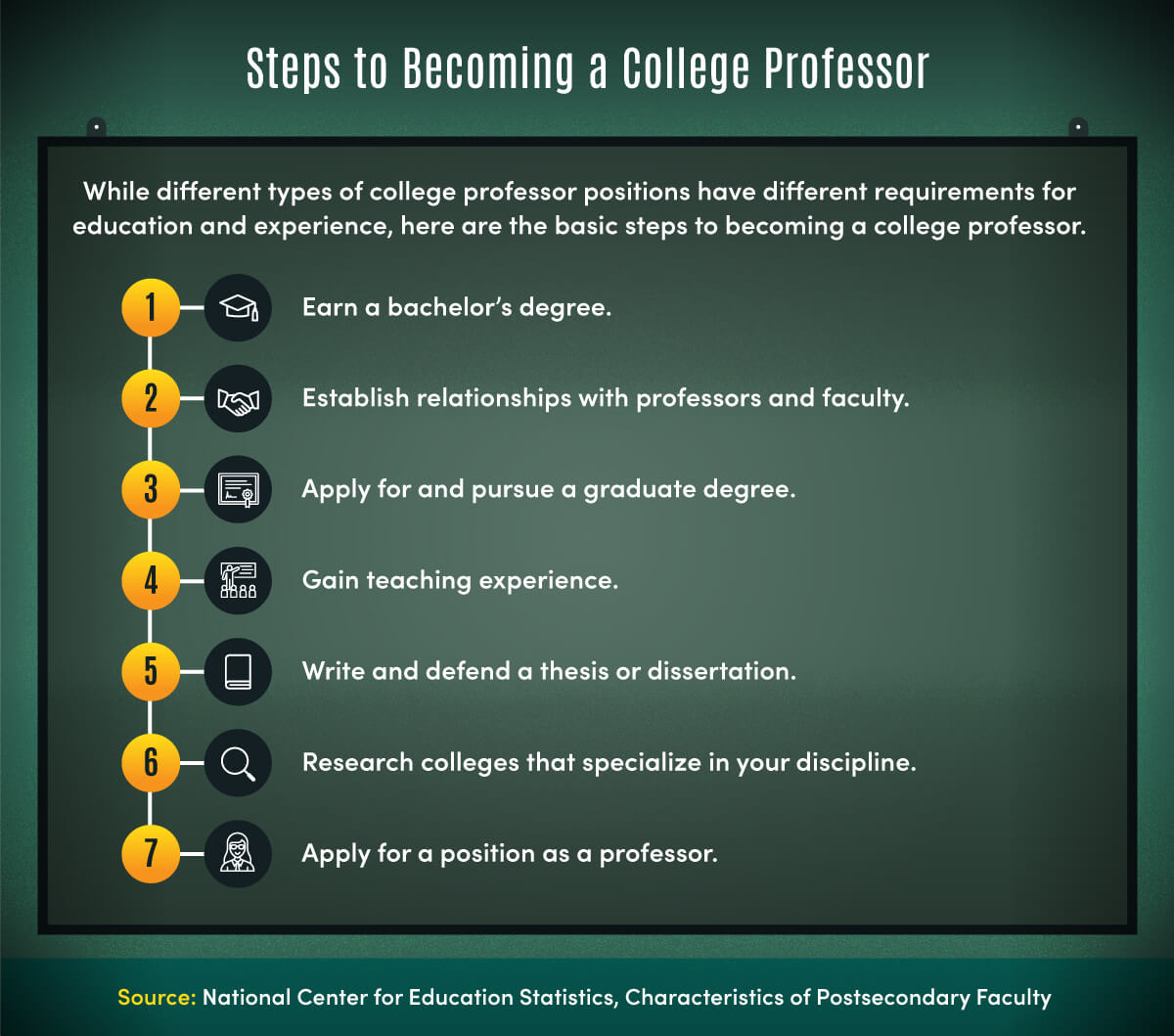 Typical Professor Education Requirements
To advance to a full professorship, a postsecondary instructor commits to the process of earning degrees, researching, perfecting teaching methods and seeking to publish books and/or academic journals. The education requirements are rigorous, starting with undergraduate courses and culminating with doctoral work in a chosen field.
That said, not all professors travel the same academic path. Much depends on the field of study, professional requirements of a particular school and state of the academic job market when the prospective professor conducts a job search.
Academic Path
The first major academic milestone on the path toward becoming a professor is to earn a bachelor's degree.
Once graduates have earned a bachelor's degree, they can begin to seek adjunct, interim or other teaching positions while they pursue a graduate degree.
After earning a master's degree, prospective professors may choose to seek faculty jobs that don't require a doctorate. Many community colleges offer teaching positions that only require a master's degree.
However, to achieve a full professorship at a four-year university or college, a doctorate is almost always required. The doctorate degree symbolizes academic achievement at the highest level and shows the student has researched, created and successfully defended a doctoral thesis.
Is a Doctorate Necessary to Become a Professor?
While not every school requires a professor to hold a doctorate, faculty at four-year colleges or universities rarely achieve tenure without one. However, according to an analysis of federal employment data by the AAUP, 73% of higher education faculty members aren't on a tenure track.
How to Become a Community College Professor
The steps to becoming a community college professor are similar to those required to get hired as a professor at a four-year college or university. Competition for jobs at community colleges can be tough. Candidates with a doctorate will likely have a competitive advantage over those who don't.
Community College Life
According to a career advice article at Inside Higher Ed, "Tips for Faculty Job Seekers at Community Colleges," one of the most important considerations for applicants is to focus on teaching experience. Because community college professors carry heavy course loads every semester, candidates for these jobs must show a dedication to teaching.
The article also recommends picking up experience teaching online. This is especially true as colleges and universities are increasingly shifting the focus to online lessons. A candidate who has taught online classes brings potentially valuable insight to the school.
Two other important pieces of advice are related. One, a candidate for a community college faculty job should bring a working knowledge of outcomes assessment (analyzing if students' learning experiences match the colleges' goals) and universal learning design (a focus on providing all students an equal chance to succeed). Outcomes assessment is necessary to help schools retain accreditation, while universal design can help schools meet accessibility requirements.
Another thing to remember, A community college faculty job isn't necessarily a stepping stone. Community college professors take their work every bit as seriously as educators at four-year research institutions. It's a career choice catering to a love for teaching.
Are Certifications Necessary
While community college educators aren't required to earn specific certifications to hold teaching positions, some schools may give greater consideration to candidates who've earned a certification related to the subject being taught.
For instance, aspiring community college professors who seek to teach accounting courses may benefit from becoming CPAs. Management teachers may burnish their teaching credentials by earning certification from a human resources organization such as the Society for Human Resource Management.
A tangible demonstration of competency in a chosen subject can only help.
Professor Salaries for Different Positions
According to U.S. Bureau of Labor Statistics (BLS) data, the median annual salary for postsecondary (college and technical school) teachers as of May 2019 was $79,540. The BLS estimates that through 2028, the job growth rate for professors will be 11%, which is much faster than the projected 5% growth rate for all positions.
The number of jobs in the field was 1.35 million as of 2018. The industry is expected to add 155,000 jobs by 2028.
Salaries and job growth vary widely based on factors such as subject, school, geographic region and employee experience. For instance, according to an article in Inside HigherEd, the AAUP reported that full professors with a doctorate at UCLA, a public institution, averaged $204,000 in annual salary for the 2017-2018 academic year. During the same time period, professors with a doctorate at Columbia, a private institution, averaged $251,300 in annual salary.
Median Salaries by Position
Here's a breakdown of median annual salaries for professors by position.
Full Professor Salary
The compensation is heavily dependent on the subject. According to BLS data, the salary range in 2019 was $113,530 at the high end for law professors and $62,860 at the low end for criminal justice and law enforcement teachers.
Associate Professor Salary
According to the AAUP's 2019 annual report on faculty compensation, associate professors with doctorates earned an average of $99,820. Those with a master's degree but no doctorate averaged $79,458. Those with a bachelor's degree but no master's degree earned an average of $73,387.
Assistant Professor Salary
According to the AAUP's faculty compensation report, assistant professors at every level of academic rank made an average of $17,000 less than associate professors. For example, an assistant professor with a doctorate made an average of $87,043, while those with a master's degree made an average of $69,553.
Instructor and Lecturer Salaries
Educators at this rank fell into similar ranges in 2017-18: about $65,000 per year at the high end and $53,000 at the lower end.
Published annual salary information for part-time and adjunct professors isn't as reliable as that for full-time positions, because adjuncts are typically paid by the course. At four-year colleges, according to AAUP data, the average compensation per course was $3,532. Adjuncts with a doctorate made an average of $4,371 per course.
College Professor as a Calling
Learning how to become a professor isn't merely a matter of checking off the right academic boxes and logging the right amount of work experience.
It's important to know going in different types of college instructors are required to earn different levels of education. It's vital to understand the differences between expectations at a community college and a four-year research institution.
No matter how much a student wants to become a professor, proper education and work experience are important. However, what matters just as much is a deep curiosity about how the world works and a desire to share that knowledge with others. It's what drove Socrates to teach his students, and it's a quality shared by professors today.